While everyone wants to visit places to see interesting things we all want authentic experiences and Cuba certainly provides those. Look through the sections of this page to see some of the things that you can experience in Cuba.

The Wildlife In Cuba - Birdwatching And The Island's Indigenous Land Mammals

By Emma Lelliott

The Caribbean is known for its wildlife, and naturally Cuba is no exception. However, if you don't know what you're looking for, you can miss an awful lot - especially with the world's smallest humming bird, and a frog smaller than a penny are endemic to the island! Here's a guide to the animals of Cuba that you should look out for on your visit to the island.

Firstly, birdwatching in Cuba is reason to visit in itself, and the Caribbean's avian life is both graceful and colourful. Here are some of the more memorable birds you might see amidst Cuba's wildlife:

The Cuban Trogan

Known as Cuba's national bird, because it shares the same colours as the Cuban flag - blue, red and white. Found in forests near streams, it is notable for its dark green head and wings, bright red belly and white chest. They feed on insects, fruits and by hovering on flowers.

Bee Hummingbird

The world's smallest bird is endemic to the island, and a highlight of Cuba's birdwatching scene. Growing to a maximum length of 2.25 inches, it's typically found in valleys, gardens and forests but has been labelled as 'threatened' since 2000 due to a loss of its natural habitats.

Cuban Finch

Another small species, the Cuban Finch is 3 and a half inches of impressive energy! Nesting in shrubs, it is best known for its beautiful yellow head, which males can fluff up to attract mates!

Cuban Parakeet

The Cuban Parakeet, once a common sight for those birdwatching in Cuba has now become something of a rarity thanks to destruction of habitat and trapping, as it was regarded as a crop pest.

Those birdwatching in Cuba will likely find it in grasslands with palms, woodland edges and in undisturbed forests. You should be able to spot it easily enough - it is bright green with red spots on the head, neck and breast with red on the bend of the wing, and a white band of flesh around the eyes.

Cuban Kite

In a distressingly familiar theme, the beautiful Cuba Kite is classified as 'critically endangered' due to habitat loss. In fact, it was thought extinct until 3 Cuban Kites were found on the east of the island.

The bird of prey lives in heavily forested land, and is thought to feed mainly on snails.

Moving away from the opportunities for birdwatching that Cuba offers, the wildlife of the island is equally impressive, though sadly in many cases the animals of Cuba are equally endangered.

Cuban Hutia

The Cuban Hutia is the largest endemic land animal that Cuba has to offer, growing on average to be around 60 centimetres in length. If you're looking to catch a sight of one of these during your Cuban travel, you're best off looking around the forests and rocky areas of the island, where you may spy the animal going about its daily business. It's an omnivore and eats a combination of fruits, small reptiles, small mammals and leaves.

Cuban Solenodon

This insectivore was, like the Cuban Kite, once thought to be extinct, but has now been 'upgraded' to endangered status. You are unlikely to spy this sample of Cuba's wildlife by chance, as it is largely nocturnal, and spends its days hiding in trees and under rocks, mainly in forests and thick shrub habitats.

Cuban Boa

Listed as near threatened, those with a fear of snakes shouldn't worry about running into one of these by chance! Also known as the Cuban Tree boa, thanks to the amount of time it spends up in trees, those looking to see one in the wildlife of Cuba are best of searching in woodland and rocky habitats.

Cuban Treefrog

Also up in the trees (unsurprisingly) is the Cuban Treefrog. If you're hoping to catch sight of one amongst the Cuban wildlife, you will need to be around at night, when it is active. It's carnivorous, and will eat pretty much anything it can catch, but even though it's the largest species of treefrog in North America, that doesn't extend to humans!

Monte Iberia Dwarf Eleuth

The text for its name in this article actually takes up more space than the frog itself! Growing to just 0.8mm long, you could fit 2-3 of these endangered frogs on a single penny piece. It's small size and endangered status isn't the only reason you're unlikely to spy one on holiday - they're also nocturnal, finding cover in the daytime.

The animals of Cuba are simply breathtaking, and the endangered nature of many of the creatures means that seeing some of the species is likely a once in a lifetime experience. Whether you're in Cuba for birdwatching, or simply taking in the history, an exploration of the wildlife is a fascinating way to spend a few days.

About the Author

Emma Lelliott is the general manager of Captivating Cuba, an independent Cuba holiday specialist. With offices in Havana and the UK, Captivating Cuba can design tailor made Cuba bird watching holidays to ensure you see the fascinating avian life in their amazing natural habitat.

Article Source: http://EzineArticles.com/?expert=Emma_Lelliott

By Emma Healey

The island of Cuba is located in the Caribbean, between the North Atlantic Ocean and the Caribbean Sea. The United States and the Bahamas lie to the north of Cuba, Mexico to the west, Jamaica and the Cayman Islands to the south and the Dominican Republic and Haiti to the southeast.

Cuba is a popular Caribbean destination for direct holidays, particularly with nature lovers due to its well preserved ecosystems, amazing landscapes and its huge array of flora and fauna. The Cuban archipelago is home to more than 6,500 species of higher plants (50 percent of which are native), 650 vertebrates including 350 species of birds and more than 14,000 species of invertebrates. Cuba is also home to the world's smallest bird, the bee hummingbird and the world's smallest frog which is just 12 millimetres long.

Cuba is blessed with lush green tropical forests with rare orchids, dry mountain areas with prehistoric cacti, mangrove everglades which are home to manatee and flamingo's, wetlands and hummocks (earth mounds) which guard fossilized plants such as the cork palm.

Follow the hiking trails and nature paths to explore this truly amazing island. The following are just a few of the ecotourism highlights not to be missed on your package holidays to Cuba.

The Sierra del Rosario - Biosphere Reserve

Located at the eastern part of the Guaniguanico Mountain range between Pinar del Rio and the Havana provinces. Houses the Santo Tomas cave system and Soroa-Las Terrazas.

The Guanahacabibes Peninsula - Biosphere Reserve

Located in Pinar del Rio Province on Cuba's westernmost point. Protected areas include La Guabina and Mil Cumbres.

The Zapata Peninsula Nature Park - Biosphere Reserve

Located in Matanzas Province, this is the largest wetland in the Caribbean. Home to La Boca crocodile farm, Laguna del Tesoro and the Amerindian Village, Caleta Buena, Playa Giron and Playa Larga.

Baconao Park - Biosphere Reserve

Located about 12 miles from Santiago de Cuba city. Home to La Gran Piedra, the ruins of Cuba's first French coffee plantations.

The Guamuhaya Mountain Range

Home to Topes de Collantes Tourism Complex, Zaza, Tunas and Lebridge wild animal reserves and El Nicho.

The Guaniguanico Mountain Range

An agricultural heartland with unusual rock formations surrounding the Vinales Valley.

Baracoa

This is where Christopher Columbus first set foot in Cuba. Virtually untouched by civilization, the area is marked by Alejandro de Humboldt National Park, Yunque de Baracoa, the Toa, Miel and Yumuri Rivers and Maguana Beach.

Sierra Maestra

Home to the islands historical hideouts, the area covers Desembarco del Granma National Park, Pico National Park, Marea del Portillo and Santo Domingo-La Sierrita.

Sierra de Cubitas

Stretching from El Paso de los Paredones to Hoyo de Bonet to Cayo Ballenatos and the protected area in the northern Camaguey Keys.

Northern Holguin

Includes Pinares de Mayari National Park and Guardalavaca-Estero Ciego.

Emma Healey is the co-founder and owner of holidayholiday.co.uk, specialists in holiday packages and last minute holidays to worldwide destination. Thanks for taking the time to read my article and be sure to watch out for more of my articles as im writing many travel blogs and have some great topics coming soon.

Article Source: http://EzineArticles.com/?expert=Emma_Healey

Nearly anyone will tell you their country is the most beautiful in the world but when a Cuban makes this statement you can believe it! Cuba is a nation that values its natural resources and treasures its natural habitats and the wildlife within them. Being economically isolated for so long, this island recognized decades ago that it must nourish and preserve its natural resources. You will find astonishingly beautiful and largely untouched natural wonders here when you visit on one of the many Cuba education tours available.

Zapata Swamp in the Matanzas province is less than 93 miles from Havana and a natural wonder that environmentalists and nature lovers alike will enjoy. Here you can see the Cuban Crocodile, Cuba's national symbol as it resembles the shape of the island when its mouth is open. There are nearly 200 species of birds, over 1,000 invertebrates and 31 species of reptiles. You can hear the songs of the Zapata sparrow, the Zapata wren and over 65 types of birds that migrate from North America. This unique swamp is the best preserved wetlands in the Antilles, over a million acres of salt marsh, forests, lakes, rivers, blue-water beaches and ponds. You'll find flooded caverns as well as swamp prairies, colorful flamingos and the bee hummingbirds, the world's smallest bird. Next door to the Zapata Swamp is the Bay of Pigs, breeding ground to millions of land crabs each spring.

Vinales Valley is a UNESCO World Heritage site, a beautiful and fertile valley where you can see farmers employed traditional agricultural methods. There are no huge, monstrous machines but skilled people intimately working the land. You can see caves in the hill faces and magnificent cliffs called mogotes.

that includes this particular destination. You'll be astounded at the natural beauty and vibrant colors of the flora and fauna in this remarkable natural formation.

Peninsula Guanahacabibes, a UNESCO Biosphere Reserve and National Park, is on the western most point of Cuba. It is an important fishing resource for red snapper and spiny lobster; the Guanahacabibes National Park is one of the island's largest natural reserves, separated from the bulk of the island by beautiful white sand plains that border one of Cuba's lakeside areas. On this peninsula you will find 42 families of birds, several species of marine turtles, coral reefs and a coast lined with cays and islands. You will also find more than a hundred archeological sites formerly occupied by aborigines fleeing from Spanish conquistadors and the site of Cuba's first forced labor camp dating back to 1960.

Topes de Collantes is another reserve park definitely worth a stop when you book of the authentic Cuba tours that are available. Located in the Escambray Mountains, it is famous as one of the hiding places of anti-Batista rebels back in the 1960s. Here you can see beautiful mountains covered with lush vegetation that provides a refuge for many species of animals. The warm, moist winds of the Atlantic have helped form ecosystems that have been designated UNESCO World Heritage sites. You'll find beautiful waterfalls feeding pristine rivers and streams, be able to hike through canyons and grottos and see naturally formed pools of clear water. More than 40 species of orchids and 100 species of ferns grow here along with jasmine, begonias, plantain and banana trees and 40 species of coffee.

There is so much beauty on the island of Cuba! Booking a tour with an authentic Cuba travel agency will insure that you see all the natural wonders that the island has to offer.

If you enjoy hiking and rock climbing you'll want to book one of the Cuba education tours

There is so much beauty on the island of Cuba! Booking a tour with an authentic Cuba travel agency will insure that you see all the natural wonders that the island has to offer.

Article Source: http://EzineArticles.com/?expert=Anuj-a_Agarwal

Live The Moments With Cuban Festivals

If you are looking for a tourist destination, try Cuba. Cuba in no time has become one of the hottest tourist destinations. It is not only known for its rich Cuban culture and buildings, but also for its fascinating events and festivals. People, who seek complete entertainment package, must definitely attend Cuban festivals and events. These events offer great combination of joyful music, dances, exotic foods and lots of happiness.

Festivals and events are the prominent part of Cuban culture. Festivals give them opportunity to socialize while celebrating the festivity. People from all over the world come to Cuba to experience and witness the glimpse of Cuban tradition. Some of the popular events and festivals are as follows:

Havana International Guitar Festival

Leo Brouwer, one of the popular Cuban guitarists, founded this festival in 1982. It is generally organized in the month of May. This festival offers a platform to guitarists coming from Cuba and all over the world to compete and providing entertainment.

The Pepe Trova Festival

Pepe Trova Festival was started in the memory of a popular Cuban composer, Jose Pepe Sanchez. This festival is generally organized in Casa de la Trova and Sala de Concierto Dolores every year.

Highly lively and creative musicians and artists from various parts of the planet come to Cuba to showcase their talents and skillfulness to the delighted spectators. In addition, the music is convoyed with other cultural activities and delicious foods.

The International Havana Jazz Festival

This festival is warmly celebrated every year in the month of February. It is counted among the most appealing events liked by natives of Cuba as well as the foreign visitors. Havana Jazz festival was at first started at Casa de la Cultura as a form of local entertainment in 1978.

The festival presents great combination of International and classic Cuban Jazz. Popular Cuban Jazz celebrities such as Gonzalo Rubalcaba, Eman Lopez, Chucho Valdes and Bobby Carcasses together with international stars such as Ronnie Scott, Dizzie Gillespie and Steve Coleman perform at the festival.

Low-Budget Film Festival

Movie lovers can enjoy movies during the Low Budget Film festival at Gibara town. This festival is organized every year to display awarding documentary, action and reality films. Apart from films, the festival also organizes extraordinary art exhibitions, concerts and recitals. The main aim of this festival is to encourage and empower creative artistes in Cuba.

Cuban festival means fun, music, food and lots of thrill. If you are short of money and wish to spend your weekend in some happening place, try Cuba for sure. Cuba is not a big country, but has much to offer.

If you want to see another planet consisting of rich traditional diversities in a balanced proportion, visit Cuba. Events and festivals happening here can make your day full with awesome experience. If you are looking for authentic cuba travel or cuba tours, check out a reputed Cuban travel website and sort out all your issues regarding your great visit.

Article Source: http://EzineArticles.com/?expert=Anuj-a_Agarwal

Havana for Foodies? Absolutely!

Every client or co-worker who has returned from a trip to Cuba has complained about how awful the food is. I can see that would be true if they stayed in Varadero where everything is geared toward the tourist. I spent 3 nights there - one night upon arrival and two more before my departure flight. I found the service in the restaurants to be surly at best and the food to be hardly edible. Just the opposite was true in Havana.

Casa Nelsy, where I stayed, is in the Vedado district of Havana, just one block away from the Havana Libre Hotel. I ate breakfast in that hotel every morning. It caters to the large motorcoach tours and their food and service was exactly as I found it in Varadero. Lunch and dinner in the local restaurants, however, were excellent every day.

Directly across the street from the Havana Libre Hotel, on the south west corner of L Street & 25th Avenue, is WAOO!!! Snack Bar & Restaurant. (It is pronounced WOW and it lives up to its name.)

It is a happening place with a full-service bar, an excellent menu for lunch and dinner, and the most amazing cappuccino topped with whipped cream and sprinkled with cinnamon for only $2.

The restaurant is L-shaped and reminded me of a large coffee shop here at home, except that the tables are dressed with white linen tablecloths and gold linen napkins. The big windows on both sides open fully to allow the breeze to keep it cool. There is no bad table in the place. The staff are great eye candy, male and female, and wonderfully friendly. I had either a drink, an appetizer, lunch or dinner there every day, never spending more than $8.00 (CUC 1.00 = USD 1.00). The food is cooked to perfection and beautifully presented. If they had been open before 11:00 a.m., I would have eaten breakfast there every day. It was my favourite place to just sit and people watch.

Across the street from WAOO!!! on the south east corner of that intersection is CIBO, an Italian restaurant. A doorman escorted us through a locked entrance that opened into an extremely attractive dining room of black & white checked tablecloths and an Elton John video playing quietly from a 32" TV mounted on the wall in the corner.

My perfectly grilled white fish came served on a bed of rice pilaf topped with a mango chutney and accompanied by al dente grilled vegetables and yucca root, all for $8.00. And you couldn't ask for better service. They were as professional as any fine dining restaurant anywhere in the world.

A few doors west of WAOO!!! is Monaquito, a hole-in-the-wall restaurant set back from the street. Here we sat on white plastic patio chairs and ate on white plastic tables covered with bright, plastic tablecloths. There is no atmosphere here and the presentation isn't great but the food is good and plentiful.

The pork lomo, 4 thick slices of smoked pork tenderloin, is fork tender and oh, so tasty! It comes with the traditional Cuban brown beans & rice to which they've added just a hint of chili seasoning, salad, and hot, crispy sweet potato fries. At only $6.00 there is enough food for 2 people. I took the extra back to the fridge in my room to have for lunch the next day.

If you walk one block south on 25th Avenue, just after you cross K Street you come to La Moraleja, attractive open-air dining tucked in behind the buildings on the street. I didn't eat there but went in to see the layout and menu. Their one closed in building that is fully air conditioned tempted me to stop and enjoy a sangria on that hot afternoon. Here you will find friendly staff, professional service, and menu items like lamb and rabbit.

On K Street between 23rd & 25th (only odd numbered avenues in Vedado), is Meson Sancho Panza, a Spanish restaurant where I lingered beside a quiet fish pond and enjoyed my favourite meal in Cuba. We dined early at 5;30 p.m. and had the whole restaurant to ourselves. When we returned another night at 7 it was full and we couldn't get in. Many local residents eat here.

My fillet of moist white fish reached both sides of my 10" plate and was 3/4" thick. Sometimes I find fish either dry or not cooked enough. This one was perfect. It was drizzled with a lime glaze and served on a bed of saffron rice that had been drizzled with a mustard sauce. It was accompanied by a side of vegetables that had been lightly grilled with a medley of herbs.

Talk about an explosion of delightful flavours in my mouth! Never in my life have I eaten another meal as tantalizing as that! In a fine dining restaurant at home it would have cost $18 to $20. In Cuba, it was $8.99!

I wasn't expecting to be writing about food and I don't normally take photos of my dinner. Now I'm sorry I didn't think to do so because all these meals were as appetizing to look as as they were to eat.

If I could find dining adventures this enticing within two blocks either direction of my Casa, I'm sure there are lots more throughout all the areas of Havana to delight any foodie.

If you would like to know more about fine dining in destinations around the world or any travel related information, please contact me at travelwithlindy@gmail.com or check out my website at http://travelwithlindy.com

Article Source: http://EzineArticles.com/?expert=Lindy_Rothenburger

The beginning of the Art Deco era officially started in 1925 when the Paris Exposition Internationale des Arts Décoratifs et Industrieles Modernes took place. Even though Art Deco started emerging as early as 1908, the year 1925 was when the movement's principal forms were defined. The world embraced this new, simple style which reflected the modern way of life of the Machine Age. It quickly spread from Europe to North America and many other parts of the world, including Cuba. Art Deco became so popular that it not only appeared as a new style in architecture and visual arts, but it also influenced fashion, graphic design and popular culture.

The first buildings in Art Deco style appeared in Havana in 1927. One was a private house in the residential neighborhood of Miramar and the other a five storey apartment building in Centro Havana. Besides many smaller private homes, mostly in El Vedado and Centro Havana neighborhoods, the most notable buildings from the early Art Deco period are Edificio Bacardí (1930), Hotel Nacional (1930) and Edificio López Serrano (1932).

Visual artists, just like architects, were influenced by their counterparts in Europe and North America. In painting, though, it is sometimes difficult to classify works of some artists within the Art Deco style. Painters adopted the basic principles of Art Deco, but at the same time, created art with very strong native and Afro-Cuban influences. The best representatives of Cuban Art Deco painting are Amelia Paláez, Antonio Gattorno and Victor Manuel García.

With the introduction of various magazines, posters and ads, graphic design flourished, especially during the period between the two world wars. José Hernández Cárdenas, Enrique García Cabrera, Jaime Valls and Conrado Massaguer were the most notable graphic designers of this period. They created magazine cover pages, book covers, magazine ads and posters, and some of them, like Massaguer, were simultaneously working for both Cuban and American publications.

With easily recognizable Art Deco style, lots of exposure and numerous commissions, Cuban sculpture in this period, especially in the 20's and 30's, reached a Golden Age. Artists created sculptures and fountains for open public spaces, decorative bas-relief panels and other interior and exterior decorative elements for public buildings and private homes. Many sculptors were also involved in designing mausoleums for prominent families at Havana's Cristóbal Colón cemetery. The most famous sculptors of this era were Juan José Sicre and his student, Rita Longa. Sicre's work includes the monumental seated figure of José Martí, winner of a public contest for the Memorial de la Plaza Cívica (now Plaza de la Revolución). Sculptures by Rita Longa can be found all around Havana, but the best three, according to art critics and historians, are Fuente de los Mártires, a fountain located in Old Havana, Grupo Familiar, a cast bronze deer family, located at the entrance of the Havana Zoo, and a statue of the Virgen del Camino, located in a suburban Havana park. Rita Longa's Ballerina at the entrance of the Tropicana cabaret is, to this day, one of the most recognizable symbols of Havana.

To learn more about Cuban art throughout history and the latest events on the contemporary Cuban art scene, or to explore our extensive gallery of Cuban contemporary art, please visit http://yemayart.com.

Article Source: http://EzineArticles.com/expert/Ljiljana_Nesic/1814767

By Brian Ramsey

Who would ever think that old cars would be a tourist attraction but in Cuba they are. Not as objects in a museum but running on the roads every day. Now you would expect to see some old cars in Cuba but there are so many, indeed much more than new cars. When we say old cars do not be mistaken and think that these are beat up jalopies. Yes some certainly look their age but many are in pristine condition.

When we say old cars we are talking about car models from the 1940's and 1950's. Old American car models Ford, Oldsmobile, Cadillac, Chevy, Dodge, Pontiac, and European models like Austin, Consol and Zephyr and of course the Russian Lada.

The reason for the preponderance of old American cars is the US Embargo that was placed on Cuba in 1962. As a result of the embargo, US companies were not permitted to do business with Cuba and so Cubans could not get new American cars or the car parts. In addition, under the socialist regime, Cubans were not allowed to buy cars and could only obtain a car if given one by the Government. The financial constraints of the Government did not permit it to buy large quantities of cars from Europe and Asia and so the shortfall of American cars could not be made up by imports of Asian vehicles. As a result the streets of Havana and other parts of Cuba are full of classic antique cars from the 1940s and 1950s still running everyday.
How they keep these cars running and looking so good is a tribute to Cuban ingenuity, especially as there are no auto parts stores in Cuba. One of the good things about vehicles from the 1950s is that they did not come with computer chips controlling almost every aspect of engine performance. So where necessary if a part cannot be repaired they make it or find a substitute or in some cases replace the engine.

Now in Cuba if you have a love for old cars, you can do more than just look at them or pose beside them for photos. You can ride in them. These old vehicles are used every day as taxis or you can hire an old convertible for an hour and go for a ride in it.
By Brian Ramsey
The neighborhoods around Old Havana may look scary to some who are accustomed to more modern cities but they are really safe to walk through. Along those streets life is lived with gusto. In those neighborhoods you will find people repairing shoes, bicycles, operating small bakeries, small sandwich shops, tiny beauty salons and myriad other trades.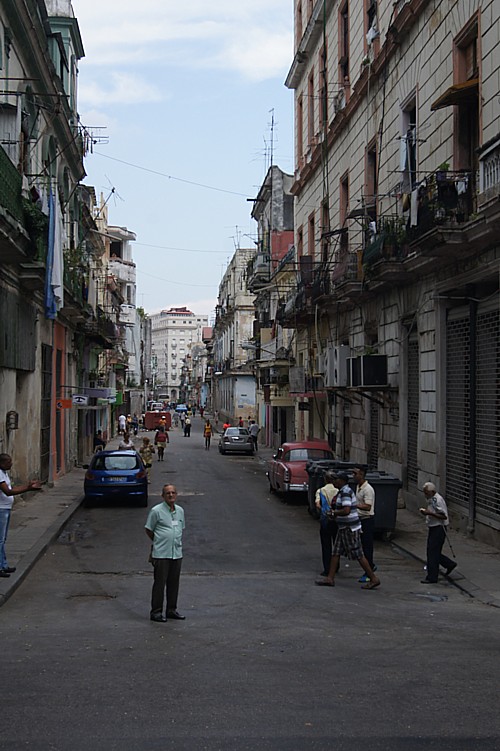 In the evenings between 3pm and 8pm you see the older residents sitting outside chatting to each other, men playing dominoes and children playing in the street. Near those buildings that have Wi-Fi, young people gather to connect to the Internet and converse with each other. In the streets people call out to each other and greet each other with smile and often a kiss. Friends stop to talk with each other and exchange pleasantries.
As you look at everyday life you can see that Cubans are very friendly people, not just to each other but to strangers also. This is a Spanish speaking country but many speak English, sometimes haltingly but listen carefully and you will understand. People are happy to give directions, happy to talk to you, although some use it as an excuse to try and sell you cigars or tours.
If you enter the supermarkets in the local neighborhoods, you will be struck by how few goods of even basic items exist on the shelves. On the streets there are vendors of local fruit and vegetable and people stop to purchase although the quantities on display are few. As you travel into the countryside more local fruits are seen at roadside stalls. There is limited public transport with much use made of bicycle taxis, horse drawn carts and local buses when available are crowded.
While material goods may be few, music is plentiful. This is a land where music is everywhere; live bands and recorded music, not just in the evenings but at lunch time in restaurants and bars. As you sit in the plazas you can hear groups of men singing, small groups, often with a guitar, maracs and tumba, while people walk along and greet each other. It is not just in Havana but throughout this land music fills the air. At times it is a mournful melody but hauntingly beautiful, while other times an up tempo beat that fills your spirit and moves your feet. As you listen to la musica your mind says la vida is bueno.
This is a land that has suffered much but still the people respond to life with a joy. Maybe it is the music, maybe the air, maybe the food, maybe even the shared experience of doing without but there is definitely a Cuban Joie de Vivre.
By Brian Ramsey
Cuban music has been hugely popular and influential throughout the world. It has been perhaps the most popular form of regional music since the introduction of recording technology. Cuban music has contributed to the development of a wide variety of genre and musical styles around the globe. Cuban music in itself is a fusion of musical traditions from the various people who have lived in Cuba over the centuries with the most dominant fused traditions being West African and European (especially Spanish) music.

The major genre of Cuban music is called Son and it is said that this form laid the foundation for most of the later music. It arose in the eastern part of the island, among Spanish-descended farmers, and is thought to have been derived from changui, which also merged the Spanish guitar and African rhythms. Changuí is a rapid form of Son from the eastern provinces (Santiago and Guantánamo, known together as Oriente). Other types of Cuban music include Salsa, Rhumba, Afro-Cuban Jazz and now Reggatón, the Cuban version of Jamaican ragga and dancehall music.

Everywhere you go in Cuba the sound of music fills the air, often pumping out from speakers in cafes or cars or even bicycle taxis. But it is the live bands that truly give you the feel of the music. These live bands seem to be everywhere, at restaurants at lunch and dinner time at nightclubs and even in the plazas in the shade of the trees.



These bands can be large with trumpet, trombone, saxophone, tumba players but often they are small 3 and 4 person bands with a guitar player, maracas, tumba player and usually a bass player. One noticeable feature of these small bands is that they have caught the capitalist fever but with a gentle twist. Each band seems to have a CD of their music and when they have played a few songs and observed your enjoyment of their music they approach you to buy their CD.
To learn more about Cuba, visit our other Cuba Pages
To learn about the other islands in the Caribbean, visit our Island Adventures Page