While for many persons a vacation in Jamaica is synonymous with staying at an all-inclusive resort, there is much to attract a visitor throughout the island of Jamaica. below are just some of the outdoor attractions in Jamaica.
The Lighthouses of Jamaica
By Alice Lane
If you love lighthouses and warm weather, then look no further than the tropical island of Jamaica and the fantastic Negril hotels. Jamaica is home to seven lighthouses, all of which are spectacular in their own right. A visit to each of these lighthouses will be a history lesson in itself.
The Morant Point Lighthouse is the oldest on the island. Built in 1841, this lighthouse consists of a cast iron tube 100 feet long and 18 feet wide at the base. A masonry wall has recently been built around the seaward side of the base of the lighthouse to help protect it from any potential damage during a hurricane. Painted with red and white horizontal bands, Morant Point is located at the easternmost point of Jamaica, about 30 miles from the city of Kingston.
The Negril Point Lighthouse is located on the extreme western end of Jamaica. This completely white lighthouse was built in 1895 to guide ships safely to the western shores. Negril Point is one of Negril's most famous landmarks. During the day you can take in the beautiful views from the top of the 100 foot structure. You will see breathtaking views of lush countryside and the Caribbean Sea. If you choose to visit the lighthouse in the evening, you will be treated to one of the most spectacular sunsets you have ever seen. Just a short walk from your Negril resorts and you can be at this landmark.
To visit the highest lighthouse in the western hemisphere, make a trip to Lover's Leap Lighthouse. This lighthouse is built right where the Santa Cruz Mountains come to an end on Jamaica's south coast. Built on top of a 1,700 foot cliff, this 100 foot tall lighthouse is very impressive. The lookout lends itself to a stunning view of the crystal blue waters of the Caribbean Sea. If you are scared of heights, you should consider remaining at one of the Negril Jamaica resorts. The Lover's Leap legend says that two young slaves leapt to their deaths to avoid being separated. They were eventually chased to the edge of the cliff where they decided to leap to their deaths rather than be captured and separated. There is a wooden carving of the two lovers at the site to remember this touching story. You can make an entire day out of a trip to this lighthouse, as there is also a restaurant right on site. If you are feeling spunky you can traverse a three mile trail that leads you down the cliffs to Cutlass Bay. Don't bring your swimming suit however, as swimming is prohibited.
About the Author
Whichever of the seven lighthouses you choose to see while staying at one of the many Breezes Negril Jamaica resorts you will be sure to enjoy yourself. There is always something new to discover at each of these amazing sites. Breezes is a quick and easy way to get started planning your trip to enjoy a stay at the Negril resorts. Breezes can provides you comfortable, clean Negril hotels for you to relax after your lighthouse excursions.
Article Source: http://EzineArticles.com/?expert=Alice_Lane
Go Off the Beaten Track in Jamaica and Discover Two_Hills_Falls and Park
A vacation in Jamaica accommodation rentals provides many opportunities that you will find hard to discover when you stay in a hotel or all-inclusive resort.
Staying in Jamaica villas, cottages and apartments allow you to meet many local people who are not putting on a tourist show. They are real people living real lives, which you will be sure to find interesting. And these contacts open up all kinds of avenues for you to enjoy the kind of Jamaica vacation that is truly unique, not one that has been packaged for hundreds of people at a time.
Consider doing things that take you off the beaten track away from all the tourists and attractions that are manufactured for entertainment. Find a driver who will take you on a journey into the countryside where you can slip back in time and get a glimpse of the real Jamaica.
In South Trelawny, there is a place called Two Hills Falls and Park that is just about an hour's drive from Silver Sands villas. It is an exciting drive which starts on the North Coast highway but quickly finds it way into the hills, passing through sugar cane fields and picturesque towns. Places with names like the Queen of Spain Valley, Wakefield, and Dromilly.
You will see old country houses showcasing English architecture from another century. Gingerbread eaves and rusted zinc roofs under the hot tropical sun as brightly coloured washing pegged out on makeshift lines flutter in the breeze blowing through the tall coconut trees.
There is a hand-painted sign nailed to a utility pole on the edge of a dirt road, advertising the Two Hills Falls and Park. From here a dirt track takes you down through banana and coconut trees to a rustic old bridge made from odd planks of wood and posts buried in the Martha Brae River.
Now the exciting sound of the waterfalls can be heard. Across the shaky bridge, there is a picnic area cleared and again very rough benches and tables have been constructed under tall fruit trees like the starapple and jackfruit.
While Two Hills Falls and Park is not spectacular like Dunn's River Falls, it is a beautiful spot where one can picnic and swim in the river. There are areas for fires and camp-style cooking.
Be warned, there are no bathroom or other facilities here. This is an unspoiled beauty spot that you can enjoy without having to jostle with crowds of tourists. If relaxing on the bank of the river with a cold drink, waiting for your jerk chicken to cook sounds like fun, then Two Hills Falls and Park will be just your cup of tea. But go there on your next stay in Jamaica accommodation rentals, because who knows when this undeveloped beauty spot will be converted into another mass tourism attraction.
There are small farms all around and if you are lucky, you may meet Donavon Beckford, one of the local small farmers, who will be happy to show you his ground. Perhaps some of the ground provisions and fruits served to you at Silver Sands villas were reaped from Donovan's small farm.
About the Author
Prem Chadeesingh is an authority on vacation rentals in Jamaica. He writes for Mysilversands, a company dedicated to providing quality accommodation in Jamaica villas, cottages, and apartments by the sea.
Prem lived at Silver Sands Jamaica for over seven years. He holds a BASc degree in Industrial Engineering from the University of Toronto and an MBA in International Business from City University of New York.
Sample the Best Beaches in Jamaica
With more than two hundred miles of beaches to explore, you will never be far from a beautiful stretch of sand when you stay in a Jamaica luxury hotel. There is plenty to see and do on the island, but on those days when nothing but a book and a suntan will do, you have an enviable choice of beaches to consider.
Doctor's Cave Beach
This beach once played host to a beach property owned by a local doctor, hence the name. It differs from many others on the island because it requires a small fee to gain access to it. However the beach is famous among those who know Montego Bay well, which is where it is located. There are many amenities nearby too if you travel from a Jamaica luxury hotel to get here.
Negril Beach
Otherwise known as Seven Mile Beach - purely because that is how long it is - there are many reasons why this beach is well worth a visit. If you long to wander along miles of sandy shores instead of simply laying on them, this is the perfect destination to choose. It is popular among those who live here as well as those who visit, and everyone is very friendly. Enjoy jerk grills and wander into the cool blue water for a swim whenever the mood takes you.
Boston Bay Beach
If you want to book into a Jamaica luxury hotel that has ample surfing opportunities nearby, look for one close to Boston Bay Beach. It is known for its undercurrents, providing the perfect storm for those who are brave enough to handle a board and stay upright on it. It is not restricted to experienced surfers though - those of all levels can be found here enjoying the scenery and the waves.
Blue Lagoon Beach
Perhaps one of the most famous beaches that Jamaica has to offer, this is so called because it has a lagoon that is an amazingly deep blue. The lagoon drops to an incredible depth of 180 feet. The beach itself is several miles long and is home to a gorgeous restaurant on the waterfront.
Long Bay Beach
On the eastern side of Jamaica you will find Long Bay Beach. This is a more relaxed and laid back beach, offering seclusion and the perfect venue to relax all day and top up your tan. You may find the ideal Jamaica luxury hotel nearby, so you don't have too far to wander to get to the beach each day.
No matter where you decide to stay on the island, you will always have a list of beaches to choose from that are nearby. They are all quite stunning in their own way, and while some are more relaxed and quieter than others, you will always be able to find the perfect one for your own needs. With jerk grills, reggae music, happy locals and plenty of people having a good time, it is hard not to fall in love with this part of the world.
Cheryl Matthews works for the Essential Hotel Collection. If you're looking for a Jamaica luxury hotel, we offer a handpicked portfolio of privately owned hotels. We have an intimate knowledge of every property and can provide the perfect Jamaica luxury hotel to make your island dreams a reality.
Article Source: http://EzineArticles.com/?expert=Cheryl_Matthews
Located at the corner of Oxford Road and Knutsford Boulevard in Kingston directly across from the Jamaica Pegasus Hotel, Emancipation Park is a very relaxing location that is relatively safe with security officers posted at the park. One always encounters people walking and jogging during the early morning and evenings. On mornings one also finds men sitting on the benches reading their newspapers and at night couples relaxing on the benches gazing lovingly into each others eyes while parents watch over their children as they run and play. At Christmas, Emancipation Park is decorated with lights on the trees that create a beautiful scene.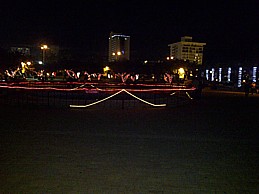 Emancipation Park is on the Liguanea plain in St Andrew and at one time was the site of the Knutsford Park Race Course. The racecourse was later bought by a conglomerate of businessmen who envisioned this site as a "city built within a city", and gave the area the name New Kingston. The Liguanea Club, a recreational and social club for the upper class in society, located on Knutsford Boulevard, owned over 35 acres of the land and gave seven acres as a gift to the Jamaican Government. In 2002 the Jamaican Government granted approval for the transfer of the land to the National Housing Trust on the condition that a park was built and maintained at that location.

To create Emancipation Park, the architect, Kamau Kambui, was hired and he drew his inspiration for the design from many facets of Jamaican society and the Jamaican countryside. Embedded in the park are many features which some people simply pass without realising their symbolism. Because of Jamaica's prior slave history with many of these slaves coming from West Africa, Kamau Kambui, sought to pay tribute to these ancestors by incorporating West African Adinkra symbols in the design of the Park. These symbols can be seen in various areas of the Park namely the perimeter fence, the walls at the entrance, the benches and garbage receptacles. The Adinkra symbols were originally designed by the Asante (Ashanti) craftsmen of Ghana, West Africa. They embody non-verbal communicative and aesthetic values, as well as the way of life of the people who designed them. The symbols incorporate images of humans, animals, plants and objects.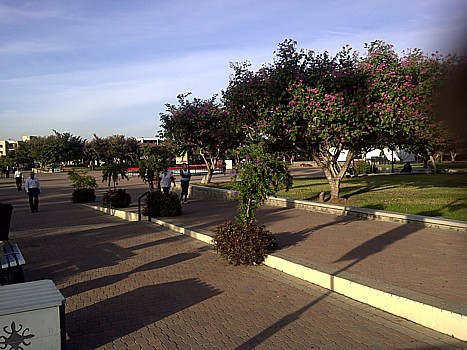 The landscape of the Park includes a wide variety of flowering plants and trees such as the majestic Royal Palm, the Bull Thatch Palm, the National Flower of Jamaica, the Lignum Vitae and the National Tree of Jamaica, the Blue Mahoe. In addition there are the Bougainvilleas, Poor Man's Orchid, Poinciana and Poui trees.

At the main entrance to Emancipation Park at the corner of Oxford Road and Knutsford Boulevard, is the 11ft. bronze sculpture "Redemption Song" by celebrated Jamaican artist, Laura Facey that was specifically designed to depict "the birth passage and the process of traveling back to our roots" said Kambui.
Exploring the Blue Mountains of Jamaica
There are a million reasons why Jamaica is one of the most popular holiday destinations in the Caribbean. In Jamaica, luxury hotels provide comfortable and lavish accommodations, offering state-of-the-art facilities and world-class service. However, there are more reasons than magnificent accommodation to visit Jamaica. Luxury hotels will no doubt tempt you to stay in and spend your days luxuriating in spas, dining in fine restaurants, or lounging around the pool, but the island's most amazing attractions are to be found outdoors.
The island boasts white sand beaches, white-water rivers, large expanses of plains, and lush mountains with an abundance and variety of flora and fauna unlike anywhere else in the world. This includes 252 types of birds (27 are endemic), 200 native types of orchids, 500 types of true ferns, and approximately 50 types of coral. The locals are warm and friendly people ready to provide guidance and aid in exploring the many cultural and historic attractions of the island. Foodies will be in heaven with the island's eclectic cuisine and the readily available supply of Blue Mountain coffee, hailed by many as one of the best coffees in the world.
However there's also a lot more to the Blue Mountains than incredible coffee. These mountains in the lush jungle north of Kingston are a favourite destination of nature lovers and adventurers, including, hikers, bikers, and bird fanciers. The jungle can be dense and going off-path can be dangerous, so unless you have a guide, it's best to stay on the well-marked paths. Listed below are some of the activities you should check out while visiting the Blue Mountains in Jamaica. Luxury hotels, beautiful beaches, incredible scenery, scrumptious food, and adventure galore, this island has everything!
Visit Holywell National Recreation Park
A part of the Jamaica Conservation and Development Trust, Holywell National Recreation Park is located in the Blue and John Crow Mountains National Park. Take a quick tour or take advantage of its camping facilities, which include showers and shelters. Its trails wind through the rugged terrain, and you will have the opportunity to spot some of the island's most reclusive creatures. Be on the lookout for the national bird, the streamer-tail hummingbird (known locally as the doctor bird) and the rare swallowtail butterfly. No worries about missing civilization in the heart of this wilderness of Jamaica, luxury hotels are just minutes away.
Tour the Blue Mountains by Bicycle
There's no better way to experience the beauty of the Blue Mountains than to dazzle all your senses in an adrenalin-fuelled ride down its mountainsides. Not only will such a ride treat you to amazing sights, the crisp island winds will bear the scent of the rain forest thick with towering trees, blossoms, and ferns, and nearby coffee plantations. Then, cool off by splashing in a waterfall before heading back home.
Tour the Mavis Bank Coffee Factory
Love Blue Mountain coffee? Then you should definitely check out Mavis Bank Coffee Factory, the government-owned coffee plant located in the town of Mavis Bank, northeast of Kingston. An hour-long guided tour of Mavis Bank Coffee Factory takes you through the processing of coffee, from planting to distribution. Make sure to take a few bags home with you, you won't find better tasting or better quality beans anywhere in the world.
Cheryl Matthews works for the Essential Hotel Collection. If you're looking for Jamaica luxury hotels, we offer a handpicked portfolio of privately owned hotels. We have an intimate knowledge of every property and can provide the perfect Jamaica luxury hotels to make your island dreams a reality. Visit us at Essential Detail
Article Source: http://EzineArticles.com/?expert=Cheryl_Matthews
600 Feet of Climbing Pleasure: The Famous Dunn's River Falls in Jamaica
By Alrick Allen
<![if !vml]>
<![endif]> <![if !vml]>
<![endif]>As you are planning your trip to Jamaica, I am sure you are trying to decide what attractions you should visit. Honestly, there are many to choose from. One of the most long standing and popular attractions is Jamaica Dunn's River Falls. Dunn's River Falls is located in Ocho Rios, Jamaica and is explained by saying it is "600 feet of climbing pleasure".
Thousands of visitors visit Dunn's River Falls every year. The actual falls are an amazing display of nature. The miniature dome-shaped waterfalls are constantly flowing and dispensing into the Caribbean Sea. Visitors climb the falls and enjoy hanging out in one of the several lagoons or pools along the way.
When you travel up the falls, you will be accompanied by a guide helping you along the way. For example they will tell you where to step to safely climb the falls. To climb Dunns Falls you will have to wear sneakers or water shoes to make sure you have a good grip on the stones when climbing. At the base of the falls is a beach for those who would rather relax in the ocean versus climbing the falls.
In addition to the waterfalls, the area has attractions such as live music, craft markets, restaurant, and an area for special occasions like weddings or family reunions. The restaurant has a wide variety of food from pork or fish, spicy jerk chicken and curried goat as well as some traditional snacks. In addition there are several outdoor grills in the picnic area if you would like to bring your food as well.
Over the years, they've continued to build the area around the falls to make it easier and more accessible for visitors to enjoy the attraction. Many believe that the falls were "created" for tourist to climb, but it is all very natural and made by the actual current of the water.
There are many ways to get to Dunns River if you are not staying in a resort in Ocho Rios. One way is with a large group tour bus, this can most commonly be arranged through the resort you are staying at. Another option is to hire a private driver/tour guide to take you and your family. Although this may cost more than the group travel, with the private driver/tour guide you can stay as long or as little as you would like as well as make any additional stops along the way.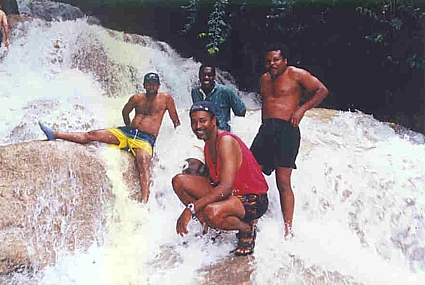 If you are making a trip to Jamaica, make sure to put Dunn's River Falls on your list of places to see, it is always on the top of the list of the world's most gorgeous waterfalls.
To get your FREE Guide on Jamaican Attractions to learn the best places to visit when planning your vacation to Jamaica, please visit www.yourjamaicantourguide.com.
Article Source: http://EzineArticles.com/expert/Alrick_Allen/795952
Montego Bay is the second largest city in Jamaica, and is the capital of St. James Parish. But what really draws visitors to this Jamaican city is its white sandy shores, charming plantations, ideal weather and excellent tourist infrastructure. Sitting on the island nation's north shore, Montego Bay is blessed with a gorgeous coast. It is also the home of Sangster International Airport, the largest international airport in the country.
Fondly referred to as MoBay, the city is actually divided into two distinct sections. One section is the city proper or often called "downtown", and the other section is the beach area, which includes the suburb Ironshore and where most all-inclusive resorts and hotels are located.
The downtown area of MoBay is known to be crowded, noisy and busy. It is a stark contrast to the resorts in the city that promote a relaxing and stress-free lifestyle. The downtown represents the more gritty and urban side of Jamaica that can be give travelers interesting insights about city living. If this sounds like something you would like to do, make sure to come during the day. Nighttime in the city proper is not really safe and streets are not well lit. Be prepared to deal with beggars and touts, but if you're already an experienced traveler, then it should not be a problem detecting tourist traps. Another option is to ask a local from your resort or hotel to escort you as you navigate the bustling streets of Montego Bay.
One must-see neighborhood in the city and also the hippiest spot in town is called Gloucester Avenue. Situated not far from the airport, Gloucester Avenue is lined with shops, hotels and restaurants. This cool avenue is definitely best explored on foot. If you love shopping and purchasing duty-free items sounds very enticing to you, then head over to Harbour Street. This area is actually a popular destination for cruise ship passengers.
But the first reason people flock to Montego Bay is undeniably its beaches. Most of these beautiful sandy stretches offer public access, so it is easy for anyone to go for a beach hopping adventure. Doctor's Cave Beach and Bathing Club is one of the most prominent stretches in Montego Bay. This beach captivates with its white sand and calm waters. It is even said that the water on this beach is fed by natural spring sources, and thus, has therapeutic capabilities. But take note that an admission fee is charged to anyone who would like to access the Doctor's Cave. Because of its popularity, Doctor's Beach can get crowded.
For a more convenient time in the city, most visitors opt to stay in a resort. After all the resorts in Montego Bay provide a well-rounded holiday experience. You don't have to hang out the beach the entire day (although that's perfectly alright) as activities like horseback riding, zip lining, golf, fishing and guided river trips can all be arranged through your hotel or resort.
The restored 18th century plantation home named Rose Hall Great House and the mansion, Bellefield Great House, and the Croydon in the Mountains plantation are just some of the key landmarks to visit in Montego Bay. Martha Brae River is the main destination for rafting enthusiasts, while bird lovers should proceed to Rocklands Bird Sanctuary.
http://yourbesttraveler.com TRANSFORMING THE WAY WE TRAVEL
Article Source: http://EzineArticles.com/expert/Nagib_Georges_Araman/2070485
For information on other outdoor adventure activities in Jamaica, visit our other Jamaica Pages
To learn about the other islands in the Caribbean, visit our Island Adventures Page