Barbados is the premier surfing location in the English-speaking Caribbean. Barbados location on the eastern edge of the Caribbean means that long rollers travel across the Atlantic before arriving at Barbados. When these rollers arrive at Barbados they encounter the many coral reefs around the island and build into the waves that are perfect for surfing. Long board or short board, or even boogie board, wind surfing or kite surfing, all types of surfing activities are conducted in Barbados.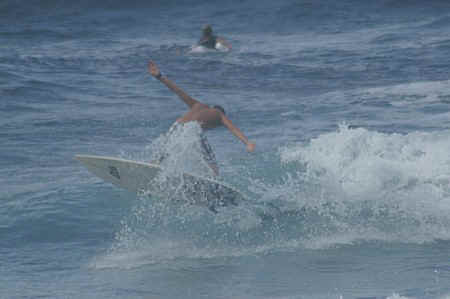 Because surfing is such a major outdoor activity in Barbados there are surf shops throughout the island, where you can rent boards, get surfing lessons or buy surfing equipment. The best time of year for surfing is between November and June when the trade winds blow from the east, however one of the enjoyable aspects of Barbados is that you can surf all year round. If the waves are not breaking on one side of the island, they are sure to be breaking on another side. The Soup Bowl in Bathsheba on the east coast of Barbados is world famous with heavy barrels and big surf that break onto a rock shelf. While the Soup Bowl should be surfed by experienced surfers there are many surf breaks around Barbados that allow persons of varying ability to experience this wonderful outdoor activity.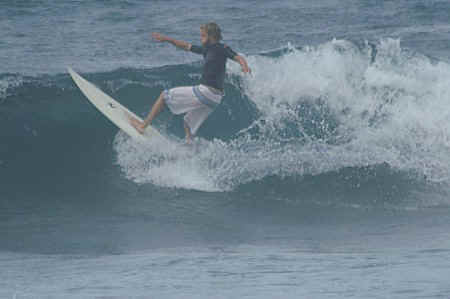 South Point has been the location for many surfing competitions in the past as it has a fairly clean powerful wave. To get to South Point you go through the town of Oistins and turn right at the Y junction to head towards Enterprise. You turn right at the second road and when you come to a T junction you turn left and then proceed to the first road on your right. There are usually many cars parked along this road and you park wherever there is space and walk down to the beach.
Brandons
Brandons on the south coast is good for any level surfer but especially good for young children. The wave breaks onto a reef and runs for approximately 75 meters and the best time to surf is at low tide. To get to Brandons you head towards Garrison Savannah and next to the Police Station you take the road on the left and head down the hill. Brandons has showers and change facilities.
Drill Hall Beach
The Drill Hall beach is backed by pine trees so many people use the beach to bathe and picnic. Even if you are not into surfing you can relax among the trees and watch the surfers. Drill Hall is good for boogie boarders and surfers and is especially good for small children. Drill Hall Beach is down the hill just before the Garrison Savannah.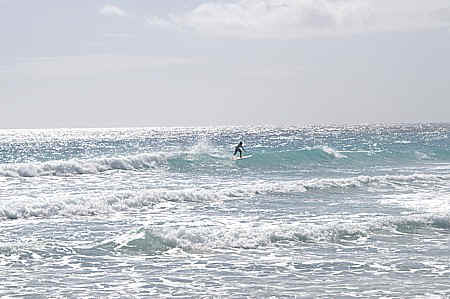 Accra Beach
Accra on the south coast has moderate sized waves. This is a poplar beach for all activities, just off the main road. There are numerous vendors just off the beach in a designated vending area and a taxi stand plus bus stops just on the main road. Across the road is a popular Cheffete fast food restaurant so you can enjoyably spend an entire day at Accra.
Silver Sands Beach
Silver Sands on the south coast is one beach where there seems to be waves for surfing every day of the year. This is also a beach that is loved by boogie boarders and for kite surfing. At this beach there are ashowers and change facilities.
Freights Bay
Freights Bay is another surf break that is good for all levels of surfers. The waves inside this bay are the longest in Barbados and both long boarders and short boarders will enjoy these waves. The directions for getting to Freights Bay are similar to the directions for getting to South Point. You go through the town of Oistins and turn right at the Y junction to head towards Enterprise. You turn right at the second road and when you come to a T junction you turn left and drive a short distance until you see the waves.
Tropicana
Surfing at Tropicana on the west coast of Barbados should only be done by experienced surfers and only at high tide. On this beach the sea floor has fire coral and if you fall among fire coral you can be cut very severely. When surfing this beach always go left as there is a dry reef on the right.
Freids
The waves at Freids roll onto Cotton Bays Beach and both long and short boarders will enjoy this beach.
Maycocks
The deserted appearance of Maycocks will make some surfers feel like they are in paradise, as there are no buildings on this small white sand beach. This is another of the beaches in Barbados that is best to surf at low tide. Getting to Maycocks requires you to go along the west coast of Barbados to Port St. Charles and at the Y junction you turn left and go up the hill to the cement plant. Just after the cement plant you turn left and follow the road until you come to a bakery, where you follow the road until it ends. At the end of the road you walk down the hill to the beach.
Other Barbados Surfing beaches
Long Beach which is next to the international airport is good for both surfing and kite surfing.
Silver Rock Beach in Christ Church parish is good for windsurfing and surfing and has life guarrds on duty.
Needham Point in St Michael parish offers ideal windsurfing
Morgan Lewis Beach in St Andrew is not good for swimming but surfers will enjoy it.
Bath Beach in St John parish has lifeguards, showers plus change facilities and is good for surfing.
Sam Lord's Castle in St Phillip parish is a good beach for boogie boarders.
Crane Beach in St Phillip is good for boogie boarders and has life guards.
Foul Bay in St Phillip is another beach that is good for boogie boarding.
Other good surfing beaches in Barbados are Duppy's on the northwest coast, Gibbs, Sandy Lane and Batts Rock on the west coast. For Boogie Boarders, Silver Rock, is also good, while Surfers Point is a good Kitesurfing beach. Inch Marlow and Drill Hall are good for windsurfing.
To learn more about Barbados, visit our other Barbados Pages