By Andy Parr

Barbados, the island that so many love has an appeal throughout the year. With the tourist season running from January to June and temperatures ranging from 24 to 29C throughout the year it really does have a lot to offer to beach lovers. During the off season it can rain heavily but the downpours tend to be swift and short. Although the Caribbean is known for hurricanes it is very rare for the island to suffer one. For holiday-makers from the UK now is a good time to be going to Barbados because the islands currency, the Barbados dollar (BBD), is fixed to the US dollar so with exchange rates so good there is value to be had if you go; especially while the Euro is strong.

Banks and ATM's are freely available and cash withdrawals can be made. British nationals do not require a visa for stays shorter than 6 months and travel can be made with just a valid passport. The Barbados West coast is known as the 'Platinum Coast'. It is this area that VIP villas have the majority of their West Coast villas Barbados really is a luxury destination and this area is a high end tourist destination.

Running north from the capital Bridgetown, are numerous luxury beach resorts and timeshare properties nestling along the shore of the clear warm azure waters that lap gently onto golden coral sands.

Beaches

Barbados is a relatively flat island with an abundant supply of large gradually sloping coral beaches fringing the land.

In the North, coral and sandstone cliffs jute straight out of the sea reaching several hundred feet in height. Cliffs of 50 to 100 feet rise and fall along the coast, separated by small coral beaches and bays. On the flatter South West and West coasts, you can walk for miles along unbroken white sand beaches, stopping only to admire clusters of coral rocks jutting out to sea. All along the coast large and small beaches are broken by coral formations, the soft coral rocks weathered by the Caribbean surf, forming abstract monoliths punctuating the seascape.

Barbados is a coral island and its beaches are made from finely ground coral, a clean fine grain. Few beaches are not very fine sand. Generally if there is a beach on the shore, it is beautiful sand. Here are my top ten beaches that are a must for all tourists who love to enjoy paradise.

1 Bottom Bay

Just north of the famed Sam Lord's Castle, this bay is protected by large cliffs. A private, wide sandy beach lined with palms, bottom Bay has a true Robinson Crusoe feel to it. Crystal clear waters, medium waves, slight undertow, and a good picnicking spot.

2 Crane Beach

Originally a harbour, Crane beach is considered by many to be one of the island's most beautiful beaches. It was voted as one of the ten best beaches in the world by 'Lifestyles of the Rich and Famous'. The name "Crane" was derived from the large crane situated at the top of the cliff which was used for loading and unloading ships in years gone by. The name is also shared with the popular but exclusive Crane Beach Resort, a timeshare complex which overlooks the ocean. Bigger waves make it good for body surfing, but in the cove to the left there is safe swimming close to shore.

3 Church Point

A very special beach. Clean, not very wide and somewhat sheltered, the waters are almost always placid with no undertow and good snorkelling. This beach is in front of the stunning Heron Bay House, which is almost as beautiful to view as the pristine beach it looks upon.

4 Long Beach

This is the last in the island loop, and stretches for more than a mile, a great find since it is secluded and private. The nearby long Beach Club has facilities, otherwise, this is a fairly private setting.

5 Dover Beach

Lying at the Southern end of the St. Lawrence Gap 'strip' this is a popular beach among visitors to the south coast. Medium waves and a number of facilities close by add to its appeal.

6, Cattlewash

This by far the longest beach on the island. Its rough and rugged splendour make it a popular sightseeing and relaxing spot. It is several miles long and very often deserted, so care needs to be taken when swimming, as the waves and undertow currents are very strong. Ask the lifeguard on the beach for advice. It is a perfect location for nature lovers. Interestingly, this beach was christened "Cattlewash" as it was the bathing spot in days gone by for herds of cattle which were shepherded down the hills from neighbouring villages.

7 Bath

One of the few truly 'safe' swimming beaches along the entire Atlantic side. There is usually a lifeguard and there are parking, changing, picnic and eating facilities. Medium to small waves and slight undertow close to shore make this a good swimming beach. Best swimming is off to the left of the beach bar

8 Mullins Bay

This is another popular hang out, a picturesque bay with a nice, placid beach almost all year round. Plenty of facilities, from parking and eating, Mullins is also a very good snorkelling area. VIP villas have numerous Villas on the beach here.

9 Folkstone beach

The beach is in St. James Parish, lying one mile north of Holetown, and is the home of the Folkestone Marine Park. There are many water-related activities, along with fresh water showers and shops. There is an interpretive centre and museum with marine and coastal environment displays, exhibits of the island's fishing industry and a salt water aquarium. The underwater park zone extends from Sandy Lane to Colony Club and you can rent snorkeling equipment around the fringe reef, or hire a boat for diving.

10 Sandy Lane Bay

The beach of Sandy Lane, the island's most opulent resort is home to Villas on the beach, Barbados. This is a long, wide beach which is in pristine condition and well-maintained. There is a public access to the beach at the south end of the hotel. Since it sits in something of a bay, the beach is nicely sheltered with little wave movement most of the year and no undertow. Quite literally it can be a VIP spotting beach with many a celebrity holidaying here.

Generally the seas on the West coast are the calmest, but good, safe, quiet swimming is available in the many tranquil bays along the South West and the South that touch the Caribbean Sea. If you like calm waters with a soft sandy bottom, then the West Coast is probably the best of these conditions.

So why not take a trip to and stay in a West Coast Villa Barbados has many that are the most luxurious that you are likely to find.

Andy Parr is a respected travel professional who specializes in internet marketing. http://VIPvillas.com

Andy Parr is a respected travel professional who specializes in internet marketing. http://VIPvillas.com

Every island in the Caribbean has its action place, be it The Hip Strip in Montego Bay Jamaica or Rodney Bay in St Lucia or Ariapita Avenue in Port of Spain Trinidad and in Barbados it is St Lawrence Gap or as locally known simply The Gap. At the south-eastern end of this stretch of entertainment places is a a beautiful beach that has action of its own. Dover Beach is a strip of powdery white sand and aquamarine clear ocean that often leaves you in a quandary; do you jump in and enjoy the water or sit on the beach and enjoy the view. Well if you give yourself enough time on a visit to this beach you can do both and more.

The sea at Dover Beach does not have any strong currents and at times is placid with gentle waves rolling up on the shore and at other times there are active waves but nothing to prevent you from enjoying the water. Nevertheless there is a lifeguard station on the beach with a lifeguard on duty every day. If your desire for ocean enjoyment is for more than simply soaking in the water and feeling the ocean caress you there are a variety water sport items that are available for rental including Hobie Cat sail boats, jet skis, boogie boards and windsurfing. On the land side across from the beach there is the Dover football field and courts for that Barbados invention; road tennis.

If your desire when visiting a beach is to lounge on the sand, soak up a few of the sun's rays and gaze at the ocean, then Dover is ideal for you. At this beach there are beach chairs available for rental and the boys will place the chairs anywhere on the beach that you want. While gazing at the ocean if you occasionally lift your eyes to the sky you can view planes on final approach coming in to land at Grantley Adams International Airport. Whenever you are thirsty or feel the urge for something to snack, life is easy because at the back of the beach are several stalls selling drinks, ice cream, snacks and meals.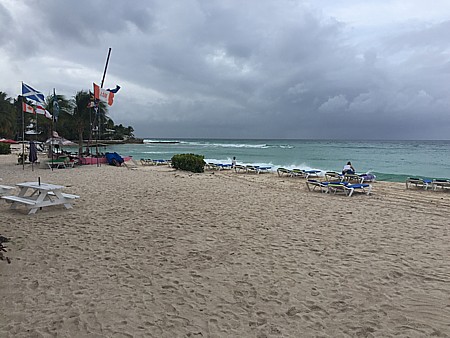 At the end of the day, when you are ready to leave there is no need to depart with sand and salt on your skin because there are free fresh water showers where you can wash it all away and leave with pleasant memories of a wonderful day.
The enjoyment at Dover Beach however does not end when the sun sets. While The Gap is known for the frenetic pace of its entertainment, Dover Beach is known as the quieter side of the Gap and also has night time entertainment. The stalls that sold you the drinks in the day continue open at night with food and music and on some nights there is Karaoke. One of the places that offers night time relaxation is known simply as Johnny's and provides a different flavor to Barbados night entertainment.
You can find more information on Barbados beaches on our Surfing in Barbados Page and you can learn more about Barbados by visiting our other Barbados Pages