Grenada's beaches are literally stunning being among the best in the Caribbean. The contrast of the brilliant blue water and the white, gold, pink and black sand create a visually appealing scene. As beautiful as the beaches are, the world under the water is equally visually appealing. The coral reefs that shelter Grenada's beaches also provide excellent snorkelling locations giving anyone on a Grenada vacation the opportunity for underwater adventure. Scuba diving enthusiasts will enjoy a scuba diving vacation in Grenada. There is variety in the diving with wreck dives, reef walls and coral gardens, while underwater visibility extends up to 100 feet.
One of the best snorkelling locations is at Aquarium Beach (also known as Magazine Beach) on the south coast. This is a favourite snorkelling location as the beach is very easy to access; you just follow the road past the airport terminal until you see the sign for Aquarium Restaurant. Ease of access however is not the only reason that this is a popular snorkelling location, within 50 yards of the shore on the southern end you are in the midst of reef fish on a small coral reef. Whenever you want to take a break from the snorkeling there is the gorgeous white sand beach, beach side restaurant and shady areas.
The most popular snorkelling location in Grenada is in Moliniere Bay, which is only accessible by boat and takes approximately 12 minutes from Grand Anse Beach. Here in a sheltered location with calm clear water the reef comes to within 10 feet of the surface. You get to explore several underwater canyons with brilliantly coloured tropical fish swimming alongside you. While the beauty of the reef makes this spot a nice snorkeling location, there is an added feature that makes Moliniere Bay a unique Caribbean underwater vacation adventure. At Moliniere Bay you get to snorkel in an underwater Sculpture Park. Created by Jason de Caires Taylor the sculptures are sited in clear shallow waters to afford easy access by divers, snorkellers and those in glass-bottomed boats.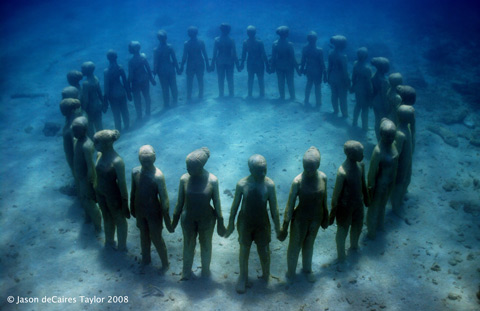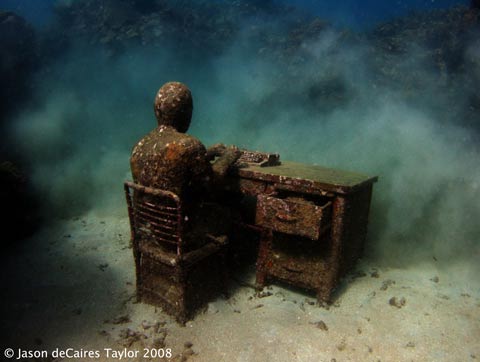 More information on this project can be found at www.underwatersculpture.com
Another snorkel site that is just a few minutes boat ride from Grand Anse Beach is Flamingo Bay. This reef which begins 8 feet below the surface and slopes to 30 feet has large pillar corals and sea fans. The highlight of snorkelling this reef is the sight of common Flamingo tongue or the rare fingerprint Flamingo tongue.
Dragon Bay is another snorkel site for Flamingo tongues but gets its name from the small dragons (sea horses) that ride along the swell.
Up the west coast of Grenada, the shallow reef at Halifax is a great snorkelling site. This calm protected reef sports a wide variety of marine life. In addition to the corals, sponges and reef fish, sting rays, electric rays and lobster are often seen.
For the more experienced snorkelling enthusiast the Blue Lagoon on the south east coast is an exciting location. Large schools of fish are seen along with turtles and nurse sharks. The lagoon is exposed to the Atlantic currents and so visiting this site depends on the sea conditions. A visit to this location should be done using a dive center.
Porpoises is another location for the experienced snorkelling enthusiast. At this rock you can snorkel and explore several ship wrecks while seeing lobster and barracuda. A visit to this location should be done using a dive center as it is exposed to the Atlantic currents.
Grenada is a tri-island state and Carriacou offers fantastic snorkelling. The name Carriacou means island of many reefs and so in Carriacou you can often go snorkelling right from the beach. The best snorkelling is around Sandy Island which is a 5 minute boat ride from Carriacou. Here snorkelers will find barracuda, lobsters, green and hawksbill turtles, squid, stoplight parrotfish, surgeonfish, and queen triggerfish. Another shallow reef off Carriacou is Millenium 2000 which has no strong currents and slopes down to 60 feet.
Scuba divers will also find Grenada a great place for a Caribbean scuba diving vacation. Some of the same sites enjoyed by snorkelling enthusiasts also provide a great diving experience. Moliniere Reef, in Moliniere Bay with the Underwater Sculpture Park, drops to 60 feet giving both beginning and advanced divers a great underwater experience. In the bay there are also two ship wrecks, the Don Cesard and the Bucaneer. Flamingo Bay has a large amount of marine life on a wall that drops down to 90 feet. Creole Wrasse, grunts, jacks, rays and grouper can be seen.
Whibble Reef is another area that abounds with marine life. Lobsters, barracudas, turtles, eagle rays, jacks and wrasse can be seen on this reef. The wall drops to 167 feet sand the currents make this a drift dive so that this is a dive for advanced scuba divers. On the southern side of the reef lies the wreck of the Bianca, a cruise ship which sank in 1961 and whose decks lie in 90 feet of water.
Mabouya Island off Carriacou is a good dive site for all levels of divers. Along the reef there is a wreck of a small tugboat and the highlight of the dive is a rock garden of giant boulders where bubbles caused by volcanic activity stream upwards giving a champagne effect.
Another of the dive sites on Mabouya Island is World of Dreams. Here the gently sloping reef descends to approximately 65 feet. There is a large amount of hard coral and some giant soft coral with angelfish, stingrays and turtles. Although there is a slight current at times, the dive is suitable for both beginners and advanced divers.
To learn more about Grenada see our other Grenada Pages;
To learn about the other islands in the Caribbean, visit our Island Adventures Page