Consisting of an archipelago of 700 islands sitting in the midst of amazingly clear blue green water it is not surprising that many of the outdoor recreational adventures in the Bahamas revolve around the sea. But while the Bahamas provides a wonderland for water lovers, there's also plenty to explore on land

There is so much variety in the outdoor recreation activity in the Bahamas that there is guaranteed to be some type of outdoor vacation adventure to please everyone.

Scuba Diving

The Bahamas offers spectacular scuba diving with exceptional visibility and wide variety in dive sites. There are coral reefs, caves, walls, blue holes and wrecks to explore. Each island is a scuba diver's delight providing wonderful dive sites at varying depths that will satisfy any holiday desire.
Andros
Scuba diving on Andros centers on the Andros Barrier Reef which is the third longest barrier reef in the world. Andros however offers more than just diving down to see a reef, Andros offers adventure in its dives. There are tunnels and cavern formations with names like Diana's Dungeons, Catacombs and Coral Gardens. You can enter a wide tunnel at 50 feet and follow a meandering pathway of crevices, ledges, and overhangs exiting along the edge of the wall at 90 feet. Andros has the underwater cave systems known as Blue Holes. Massive stalactites decorate these submerged cave systems, typically bathed by seawater of stunning clarity. Among the Blue Holes that could form part of your underwater vacation scuba diving adventure are Big Blue Hole, Bob's Blue Hole, Stargate, Guardian Blue Hole, and Little Frenchman's Blue Hole.
For divers who like to go really deep, Andros has some serious walls. The dive site known as Over the Wall takes you down a vertical face from 70 feet to 185 feet. The Andros Wall is the truly deep wall, beginning around 70 to 90 feet it has a gentle slope to a narrow sand plateau before plunging 6,000 feet into the deep oceanic abyss known as the Tongue of the Ocean.
Wreck divers will enjoy diving to see the Marion which sits upside down in 70 feet of water and is home to grouper and small reef fish.
Abaco
Abaco is famous for its scuba diving. There are miles and miles of beaches and reefs that are never crowded. As with all of the Bahamas, there is great variety in the diving at Abaco. Diving at the dive site known as The

Tarpon Dive takes you from 2 feet to 55 feet along a wall rich with coral. Along this wall there is a school of large tarpon that shelter under an overhang between two adjoining reefs. The Coral Canyons are a series of engaging tunnels and swim-throughs penetrated by shafts of sunlight. One dive site with a very apt name is The Hole In The Wall. Here you swim through a large coral head and among caverns that are bathed in sunlight. Sitting in 40 feet of water is the wreck of the San Jacinto that is home to groupers and green moray eels.
Bimini
If you have ever wondered whether the lost city of Atlantis really existed, then Bimini is the place to use your vacation to go scuba diving to find out. Here off Bimini in 20 feet of water are a series of large rectangular stones that lie on a sandy bottom that some have said are a road from Atlantis. After you have decided if Atlantis existed some other great scuba diving locations are the Bimini Barge, at 100 feet, this ocean going barge sits on a sandy bottom. The Victories and Tuna Alley, down between 40-90 feet these are sloping drop-offs with swim-throughs and caverns. The Little Caverns are Popcorn shaped coral heads on a sandy bottom with tunnels and swim throughs. Rainbow Reef lies at 25-35 feet and are shallow ledges hiding nurse sharks, turtles and more depths.
Other Islands
The astounding clarity of the water in the Bahamas and the prevalence of limestone and coral everywhere makes diving on every island a pleasure. The wonderful reefs, drop-offs, blue holes and caves in the Exuma Cays Land and Sea Park on Grand Exuma will fascinate experienced divers. On Eleuthera, a unique draw is the train wreck a few fathoms down.
Action Dives
As if the spectacular underwater scenery was not sufficient to keep any diver enthralled, the Bahamas has diving that can best be described as action adventures. At Shark Reef on Long Island you can dive amid reef sharks on a shallow reef in 30 feet of water. Andros also has shark diving, where in 50 feet of water you can dive amid feeding sharks. Those staying in Nassau on New Providence Island can also experience the outdoor underwater adventure that is scuba diving amid feeding sharks. Here divers kneel on the ocean floor forming a semi-circle around a professional shark feeder and get to see the behavior of sharks as they feed.
Snorkeling
Swimmers of every ability will enjoy snorkeling in the Bahamas. The distinctive coral and reef formations around the islands and clear, blue water that is generally shallow make snorkeling, while on holiday, a remarkably rewarding outdoor recreation experience. On every island you will find delightful places to snorkel with incredible marine life. There are some places however on certain islands that are particularly special. On Andros at Trumpet Reef, in just 5 to 15 feet of water, grand stands of elkhorn coral provide refuge for a fascinating collection of colorful reef tropicals. At Peter's Place both staghorn and elkhorn compete with rare pillar coral for prominence. Abaco's Tarpon Dive takes you from 2 feet to 55 feet along a wall rich with coral. Along this wall there is a school of large tarpon that shelter under an overhang between two adjoining reefs.
Kayaking
Because of the shallow waters along the shores and cays, a kayak is the perfect outdoor recreation activity that allows you to really explore the islands and experience the natural beauty of the Islands of The Bahamas. You can meander along the shore at your own pace, exploring coves, mangroves, bonefish flats and watching sea life as it quietly drifts beneath you. Kayaking in the Bahamas allows you to explore uninhabited cays, hidden caves, blue holes, blow holes and isolated beaches you never knew existed. On Exuma Island, you will want to explore Turtle Lagoon, Mystery Cave and the famous Blue Hole, once a dive site for Jacques Cousteau. Bimini offers kayaking to the legendary "Fountain of Youth" (a natural spring amid the mangrove mud that pumps lithium and sulfur).
Resorts and hotels offer kayaks for your outdoor vacation leisure, but you'll also find guides and adventure kayak trips throughout the Bahamas. Experienced sea kayakers can take a week-long, 50-mile trip through Exuma Cays Land and Sea Park, 176 square miles of fish-filled waters and miniscule cays populated with white-tailed tropicbirds and the faded ruins of British loyalist plantations. This kayaking trip is a true vacation adventure.
Deep Sea Fishing
The Bahamas are synonymous with sport fishing for marlin, tuna and wahoo. The deep-sea trenches are spectacularly rich in game fish, and almost every island is a venue for fishing. Boats can be chartered for fishing trips on most islands.
Bimini Island, perched at the edge of a sheer underwater cliff that falls thousands of feet into the blue with the Gulf Stream flowing north serving as a sea going highway and attracting everything from marlin to mantas, dolphin to sea turtles is the premier game fishing location. Throughout the Bahamas there are fishing tournaments year-round, however Bimini is especially known for its game-fishing tournaments. Fishermen enjoy fishing year round on Long Island due to the presence of a major current stream, the north equatorial current which originates in the Canary Islands and washes the shores of Long Island, transporting huge schools of Blue Marlin, White Marlin, Sailfish, Rainbow Runners, Yellow Fin Tuna, Black Fin Tuna, Dolphin and Wahoo.
Fly fishing specialists know that the best game fish are actually found on the salt water flats around many of the Bahamas islands. Living in inshore tropical waters, moving onto shallow tidal flats to feed with the incoming tide, and retreating to deeper water as the tide ebbs, bonefish are considered the world's best game fish.
The western shore of Andros is primarily mangrove and shallow sand flat, but for watersports enthusiasts, the eastern shore is the prime attraction, however both sides have world-class bonefishing. Great Exuma is known for excellent bonefishing in crystal clear waters on broad, shallow sandbanks. Long Island offers the opportunity for Fly and Spin Casting for 'flats fish', including Bonefish, Tarpon and Permit.
Boating & Sailing
The steady breezes and the charming natural harbors of Abaco Sound are a sailor's delight. The Exumas are considered the apogee for all boaters. Sailing races from Miami to Nassau have been organized semiregularly since 1934, and the Family Island Regatta, held each April in Georgetown on Great Exuma, is world-renowned. Motor yachts and sailboats can be rented on almost every island.
Hiking
Hotels and resorts on each of the Out Islands provide a variety of nature trails and hikes. While on your vacation, you can choose to join a guided tour, or head off on your own to explore.
The Bimini Nature Hiking Trail gives visitors a rarely seen glimpse of the island. You will not only be able to learn more about Bimini's animal and plant life, but also hear stories about the ecology and history of Bimini. Guided tours of the nature hiking trails are led by professionals, who provide a hands-on experience with unique animals on this small island. Even if you venture off on your own, signs identifying plants and wildlife can be found along the trail.
Andros Island is a naturalist's wonderland thanks to numerous deserted beaches, blue holes (fresh- and salt-water-filled caves found inland and in the ocean, respectively), pine forests, mangrove marsh, and the carefully protected fresh water reservoir. A particularly enjoyable hking area is the Forfar Field Station in Blanket Sound. This international research facility for studies in tropical ecology and marine biology offers inland nature hikes and offshore expeditions. A nature hiking trail explores the island's flora and fauna and medicinal plants.
On Cat Island you can take a nature hike up the highest point in the Bahamas. Mount Alvernia is the highest point at 203 feet above sea level. The mount is capped by the Hermitage, a religious retreat. Father Jerome (the former "father confessor"), built the small monastery entirely by hand.
Bicycling
With some of the flattest land around (the highest point in The Bahamas is only 203 feet, on Cat Island), the islands provide plenty of easy cycling terrain. Bicycling is therefore a good way to get around plus enjoy some outdoor recreation while on your vacation. Bicycles are available anywhere in The Bahamas.
Bird Watching
Among the islands of the Bahamas, there are 44 endemic species that includes the rare Bahama Parot, more than 100 species breed on various islands and a reported 169 species visit the islands as part of their migration. The highlight of any bird watching trip to the Bahamas however would be a visit to the Inagua National Park. Here close to 60,000 West Indian Flamingos live, it is the largest colony of these birds in the world.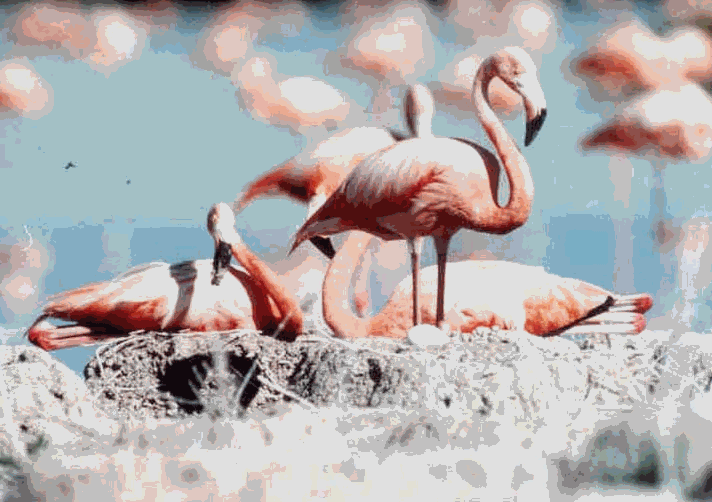 During late summer, autumn and winter the Flamingos fly off to the northern Bahamian islands of Abaco and Andros. The Abaco National Park is one of the best bird-watching destinations in the entire Caribbean. Over 100 species of tropical birds live in this area. In addition to flamingos a prime attraction at the park is the endangered and vividly colored Bahamian Parrot. Dawn is the best time to catch a glimpse of this rare visitor.
On Andros there are numerous birding locations. The Nature Trail offers chances to see some of the more shy species, like the Key West Quail Dove, the Great Lizard Cuckoo, the Bahamas Yellowthroat, the Greater Antillean Bullfinch. The settlement of Staniard Creek, is one of the best birding locations in the Bahamas. It is home to a host of land birds, including Black-cowled Orioles, Bahama Woodstar hummingbird, Bahama swallows, Bahama Mockingbirds and Bahama yellow throats. The pond at the San Andros Airport always has good bird watching in winter, including migrant ducks, Sora, occasional Purple Gallinule, grebes, and migrant land birds, including warblers and sparrows.
Golf
The Bahamas are a popular golfing destination. Great Abaco, Eleuthera and Exuma are home to magnificent 18-hole courses, where many tournaments take place. You can easily enjoy a round of golf while on your holiday.
Tennis & Racquest Sports
Tennis can be played at most major resorts.
To learn more about the outdoor adventure in the Bahamas, visit our other pages: