The Bahamas is an archipelago of over 700 islands stretching over 100,000 square miles in the Western Atlantic Ocean. The Bahamas are located in the Atlantic Ocean southeast of the United States; north of Cuba, Hispaniola (Dominican Republic & Haiti) and the Caribbean Sea; and northwest of the Turks and Caicos Islands.
The closest island to the United States is Bimini, which is also known as the gateway to the Bahamas. The island of Abaco is to the east of Grand Bahama. The south easternmost island is Great Inagua. Other notable islands include the Bahamas' largest island, Andros Island, and Eleuthera, Cat Island, Long Island, San Salvador Island, Acklins, Crooked Island, Exuma and Mayaguana. Nassau, the capital city of the Bahamas, lies on the island of New Providence.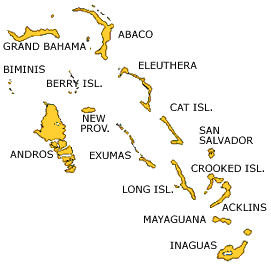 In addition to the 700 islands there are approximately 2,000 cays which are low sandy islets formed on the top of coral reefs. With such a large number of islands and cays the water based outdoor vacation adventure opportunities seem almost endless.
The word Bahamas comes from the Spanish words 'baja mar' which means shallow sea. Those shallow waters have created magnificent areas for flyfishing especially for bone fish. The shallow water and numerous cays also provide a realm for sea kayaking adventure.
The islands are actually the birthplace of the Gulf Stream, a phenomenon that also accounts for their astonishing variety and abundance of marine life. Legendary gamefish draw sport fishermen for the outdoor adventure of deep sea fishing and more than 50 international fishing records have been set in these waters. In addition, calm waters and cooling tradewinds have rightfully earned The Bahamas an international reputation for sailing, with regattas and races held year-round.
The same conditions that make these islands so amenable to sailors and fisherman draw visitors to the vast and diverse underwater parks. With more than 5% of the planet's reef mass, The Bahamas offer inexhaustible pleasures and challenges to snorkelers and scuba divers in search of vacation adventures. The natural beauty of the water extends to the thousands of miles of shoreline, which has some of the world's most stunningly beautiful and unsullied beaches. From the pink sands of Harbour Island and Eleuthera to the deserted strands of the Exumas and San Salvador, there is a life time of beaches to experience. Further inland are gardens and National Parks with rare and endangered species, such as the exotic Abaco Parrot and the Bahamian Iguana.
To learn more about the outdoor adventure in the Bahamas, visit our other pages: